Voxdale Belgium and Berlin-based Voxdale GmbH are innovative product design engineers to maximise products' innovation potential having extensive experience in product development, engineering, prototyping and simulation in various industries.
Virtual simulation tools are central to their business. Performance can be tested during the design phase and adjusted where necessary. This results in fewer prototypes, better products, lower costs and a faster time to market.
Credo Business Generators partnered with Voxdale for the Benelux and German area since the end of 2014. Besides selecting the markets, sectors, companies and contacts, Credo Business Generators' marcom tools are focused on securing personal presentations at qualified prospects by Voxdale representatives.  In this respect Credo Business Generators act as an extension of the organisation to discuss and implement marcom strategies and plans.
"With CREDO Business Generators we have found the perfect partner with expert knowledge to represent us in a larger geographical area."
Founded in March 2013 as a spin-off company from the University of Antwerp, Novosanis nowadays is a wholly owned subsidiary of OraSure Technologies Inc (NASDAQ: OSUR) and an innovative developer and producer of medical devices improving the quality of diagnostics tests as well as the accuracy of drug delivery for infectious diseases and oncology.
Novosanis prospers in user-friendly and game-changing medical devices meeting all regulatory and quality requirements for self-sampling and drug delivery solutions that improve accuracy and standardization while making handling easier, more consistent and more comfortable for the user.
Their two device platforms consist of:
Colli-Pee is a patented innovative, user-friendly sampling device suited for standardized and volumetric collection of first-void urine allowing improved detection of infectious diseases as well as early stage cancer. Colli-Pee is CE-marked and FDA listed.
VAX-ID is a patented and proven platform of injection devices suited for accurate drug delivery of e.g. therapeutic, prophylactic and allergy drugs and vaccines in the dermal layer of the skin. 
Credo Business Generators partnered with Novosanis introducing the Colli-Pee to the European market since 2014. Together with the Novosanis team Credo Business Generators manages the business development process: from research, making initial contacts with qualified leads to monitoring and evaluating the implemented strategy. Credo Business Generators monitors the business development process. 
"CREDO Business Generators help us to successfully introduce the Colli-Pee to the market in Europe. They contact important actors and potential customers from academia, industry and (semi) government organisations."
Altair Engineering's vision is to radically change the way organisations design products and make engineering decisions. Founded in 1985 and headquartered in Troy, Michigan, one of the Altair Engineering's European offices is located in Germany.  
Altair is an innovative company delivering state-of-the-art engineering software for industries such as aerospace, automotive, heavy industries, machinery, oil and energy as well as the shipping industry. Many innovative companies have discovered Altair's engineering software.
.
 "CREDO Business Generators helps Altair to connect with important high-tech companies in the Netherlands and Belgium. With a strong regional network across different industries and experience in business development, this company is an important partner in our Benelux Marketing Strategy".
AirShaper is an online aerodynamics platform: it allows designers & engineers to upload 3D models, set the wind speed and orientation and have the airflow simulated. This process is completely automated, allowing users without expertise in aerodynamics to obtain reliable results & improve their design.
The company was founded in 2017 and has since received both government & private funding to further develop it's offering. It employs industry experts on aerodynamics calculations and is linked to research & development institutes in the field.
Credo Business Generators helped us in the very early stages of our company to reach potential customers.
Where others drop a lead after one or two tries, Credo BG keeps going until they get hold of the right person.
Such determination is difficult to find and a real plus!"
Protyp is a competence center for plastics engineering, specialised in choice of the right material, simulation of strength and flow, testing of materials and products.
Experienced innovation with a demonstrated history of working in the consumer goods industry. Strong product management professional skilled in Computer-Aided Design (CAD), Tensile Testing, Thermoplastics, Design for Assembly, and Polymers.


Over ten years I have been working with Lydia of Credo Business Generators and in these years I experienced her excellent and committed sales initiatives. It is crucial to have a back-up professional capable in opening doors to new opportunities. The first step is an important step in our technology related sales process. And customers always reacted positively to conversations with Lydia.
Especially for technology driven companies it is not easy to find new contacts and arouse their interest in my type of business. Lydia is very committed to finding the right person within an organisation and continues to contact until she has spoken to the right decision making contact. 
She does not give up, keeping in mind the contact person has limited time to spend and their time is valuable. On top of that she is able to answer technology related questions and knows how to deal with them. She always manages to have target audience attend our advanced technology trainings and international technology exhibitions in order for me to explain in detail and exhibit our innovative products and services.  
Remco Boer— Protyp— Innovation in Plastics.
Optiphore is an engineering services provider based in the Netherlands. Since its foundation in 2016, the company has been operating systematically across Europe in the Netherlands, Sweden, Germany, Belgium and Greece. We enjoy applying cutting edge solutions to various problems, also developing our custom CAE tools and AI methods to support our decision making.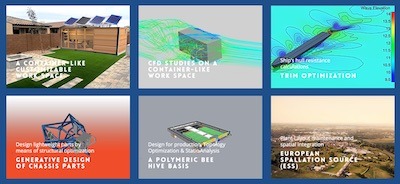 Interested to have a talk? Call us for further information!

+31(0)6 83 21 87 84